LEAF PAKRAT Bus on Display
June 3, 2016
---
LEAF PAKRAT Bus on Display
On Saturday, May 28, the LEAF PAKRAT bus was on display at the Kiwanis Parade and bike give-away at Lake George.  The Kiwanis Club has become a major donor to the Summer PAKRAT Roll and Read Program.  Sara Martini and Beth Lovdahl, Roll and Read Program coordinators, we present to hand out schedules for this summer's Bus Route.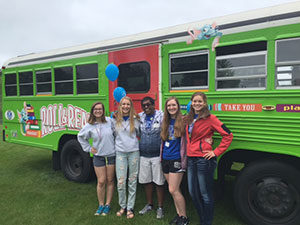 Also in attendance were a group of students representing the Sartell High School Student Government.  The SHS Student Government had solicited children's books as the cost of admission to a school dance this spring.  They were present to give away the books to children in attendance.  At the end of the morning, they still had two boxes of books left and they chose to donate those books to the LEAF PAKRAT Summer Roll & Read program!   Their books were loaded onto the PAKRAT bus and will be available for students in District 742 this summer!
The Sartell students posed for a picture in front of the PAKRAT bus.  From left to right they are; Laura Carlson, Lauren Lindmeier, Gopi Ramanathan, Hannah Yackley and Kali Killmer.   (Of note:  Hannah Yackley's father was a football star at Tech High School in the early 1980's)!
LEAF thanks the Sartell Student Government, their advisor Ms Karrie Fredrickson, and most especially these students!
Check out the PAKRAT story for ways that you can contribute to the PAKRAT Summer Roll & Read Program.
---