Activities Participation Fund
Activities Participation Fund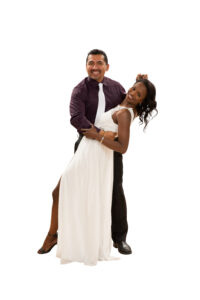 Click here to support Ayan and Jesús.
Click here to view a preview of their salsa dancing.
Click here to view a video of students supporting Ayan and Jesús.
LEAF is proud to announce that two District administrators have chosen LEAF as the beneficiary or their efforts as competitors in the CMCF Women's Fund Annual "Dancing With Our Stars" event to be held on Monday, June 12 at the College of St. Benedict from 5:00 – 8:30 p.m.
Ayan Omar, Director of Equity Services, and Jesús Sandoval, Tech High School Assistant Principal will compete for the dancing title – and donations to the LEAF Activities Participation Fund.  This fund supports students who would otherwise have difficulty in participation in the student activities program by paying for physicals, equipment/clothing needs, or transportation.
Winners of the competition will be determined by scoring of their dance by judges (40%) and total funds raised through donations (60%). The winning couple receives an ADDITIONAL $15,000 in support of their charity – the LEAF Activities Participation Fund!    Let's help Ayan and Jesús win this competition, while we help support the LEAF participation fund to encourage more girls and disadvantaged students to participate!
Ayan Omar summarizes her reason for taking the challenge to participate in the Dancing With Our Stars competition. "The access to cultural and religious uniform, which is made possible in the collaboration between LEAF in ISD 742 School District, is a reminder of how valuable honoring student identity authentically inspires student engagement. LEAF brings a critical component in the transformation of lives, families, and community. As a young Muslim-American refugee, LEAF offers students who share my narrative with opportunities otherwise inaccessible due to traditions, history, and financial barriers."
---
The purpose of the Activities Participation Fund is to "Provide assistance to individual students who would otherwise be unable (or would face significant hardship) to participate in the student activities program due to their economic circumstances".  LEAF recognizes the inherent value of participation in the organized student activities programs and seeks to support low-income students who want to participate.
The fund seeks to help disadvantaged youth participate in the student activities programs in District 742 by covering some of the costs for physicals, essential equipment for participation, transportation and other costs directly related to individual student participation.  The fund helps students who want to participate at Apollo High School, Tech High School, Kennedy Community School, North Middle School and South Middle School.
---