Report To The Community And Awards Reception
Report To The Community And Awards Reception
The LEAF Board recognizes that we would be unable to fulfill our Mission of supporting District 742 activities without the contributions of many volunteers as well as generous charitable donations. In November of 2004, the Annual LEAF Appreciation Reception and Awards Recognition was begun to recognize the people who have made special contributions to LEAF and the District 742 activities program through their tireless service or philanthropic contributions.  It is also a time for LEAF to report to the community how their generous donations have been used in the past year.
The first LEAF Appreciation Reception was held in the home of Steve and Paulette Schwegman. In 2005 and 2006, the event was moved to the Paramount Theatre and held in conjunction with a scheduled performance at the Theatre. Invited guest enjoy Hors D'oeuvres and refreshments followed by an awards program. In the fall of 2008, the venue was changed to Tech or Apollo – whichever school is performing a Fall Musical (they rotate). Following the recognition, guests are invited to attend the Fall Musical Performance.
The event moved to the St. Cloud Country Club in 2015, where it has stayed except for the two COVID years of 2021 & 2022. 
LEAF Report To The Community And Awards Reception Goals
Thanks to donors
Honor volunteers
Publicity for LEAF within the St. Cloud Community
Cultivation of Loyalty for the LEAF Mission
The 2023 Annual Meeting was held at the Country Club on Monday, February, 13.  LEAF welcomed the largest audience ever, reported on happenings during 2022, and presented awards to several individuals, businesses and organizations for their contributions to LEAF and education in District 742.  Following are the 2023 Awardees:
The District 742 Local Education & Activities Foundation (LEAF) recently recognized and thanked community supporters at the annual LEAF Community Report and Awards Reception via Zoom on Monday, February 28, 2022. Awards were presented for lifetime service, volunteerism, charitable donations, and instructional excellence.
The following individuals were recognized:
Volunteer Service Award for significant and ongoing volunteer involvement with LEAF.
Shelley Rolfes
Laura Pfannenstein
Charitable Giving Award for significant financial or in-kind contributions to LEAF.
 Business/Organization Category:    
John McDowall – McDowall Construction Company
St. Cloud Golden Gloves Boxing Association, Inc
Individual Donor Category
Don Helgeson & Sue Shepard
Ed & Mary Schnettler Family
Instructional Excellence Award in recognition of educational excellence and accomplishment.
Ryan Cox, Director of Innovation & Instructional Technology
Coaching Excellence Award in recognition of demonstrated excellence in helping students excel through activities
Mike Trewick, Apollo High School
Jeff Wucherer, South Junior High School
Lifetime Service Award for significant and ongoing service to and support of the LEAF Mission.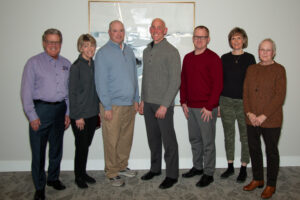 Previous Award Recipients
Phil Welter Volunteer Service Award
2004 Ken Kelsey
2005 John & Kris Scharenbroich
2006 Jean Sonsteby
2007 Gary Zwack
2008 Bob & Sue Hanks
2009 Dennis Smith
2010 Robert Feigh
2011 Patrick Henry
2012 Wayne Schluchter
2013 Paul Muller
2015 Jim Pehler
2018 Pat Welter
2019 Randy Warzecha,
Lucille Guinta-Bates
Bruce Watkins
2020 Victoria Hedtke
Nicholas Hollermann
Melissa Hanzek-Brill
2022 Tim Beck
2023 Laura Pfannenstein and Shelley Rolfes
George & Shirley Torrey Award for Charitable Giving
2004 Mike Faber and Viking Coca-Cola
2005 Joanne & Paul Dorsher
St. Cloud Times, Bill Albrecht Publisher
2006 Don and Jan Watkins
Regent Broadcasting
2007 Tom and Joyce Schlough
Lamar Outdoor Advertising
2008 Barclay and Janet Carriar
Don Farleo Advertising and Design, Don & Diane Farleo
2009 St. Cloud Lions
2010 Dick Anderson, Holiday Inn Hotel & Suites
2011 McKay Family Auto/Patty Yarbrough
KDV, Loren Viere
2012 Jason Bernick, Bernick's Vending and Bernick's Family Foundation
Mark & Angie Benson, Benson Funeral Home
2013 MARCO, Inc, Jeff Gau, CEO
St. Cloud Morning Optimist Club
2015 Vicki & Lee Morgan
Wayne & Julie Schluchter
2016 St. Cloud Rotary Club
Jim Rahkshani, Café Renaissance
2018 Mark & Ann Thelen
Mike Podawiltz and Diana Murphy-Podawiltz
Liberty Bank, Mark Bragelman
2019 Kiwanis Club of St. Cloud
2020 Proviant Group
2022 Business: Al Dahlgren/Once Upon A Child
2022 Individual: Peggy Carlson & Chuck Nielsen, Janna & Mike LaFountaine, and Janet & Mike Reagan
2023 Business/Organization: McDowall Company and St. Cloud Area Golden Gloves Boxing, Inc
2023 Individual/Couple: Don Helgeson & Sue Shepard, the Schnettler Family
Coaching/Advising Excellence Award
2005 Ron Kaczor and John Lieser
2006 Deb Bendix and Dave Hoeller
2007 Mike Bakken and Bruce Woidyla
2008 Mick Boatz and Sue Williams
2009 Gregg Martig, Tim Bengtson and Thea Stockinger
2010 Kevin Kiffmeyer and Jason Parker
2011 Megan Pederson and Paul Bates
2012 Cynthia Kaercher and Karmin Schraw
2013 Bernie Rolle and Gary Zwack
2015 Steve Taylor and Justin Skaalerud
2018 Mike Voit, Wayne Chmelik, Karlyn Doyle, and Kerry Kopp
2019 Jill Lipp and Pete Mantanich
2020 Nantha Viswanathan
2023 Mike Trewick and Jeff Wucherer
Instructional Excellence Award
2009 St. Cloud Education Association, presented to President Mary Broderick
2010 Meredith Boucher and Denis Huebsch
2011 District 742 Advanced Placement Program and Teachers
2013 Mark Weimer, St. Cloud Robotics Program, Jennifer doom, Tech HOSA and Bill Garceau,
Tech Skills USA Program
2013 Jen Day, WE ACT Program Advisor and Sara Martini, PAKRAT Program Coordinator
2015 District 742 Early Childhood Education Program, Alicia Jepsen, Director
2016 Superintendent Willie Jett
2018 District 742 Immersion Program, Sue Linn-Hasbrouk, Director
2019 Tammy Wilson, Principal at Discovery Community School
2020 District 742 AVID Program, Jane Greeney-Schill, Director
2021 Kristin Herbert, North Jr. High and Alexandra Badger, Apollo High School
2022 Laurie Putnman-Asst. Superintendent and District 742 Bus Drivers and Staff
2023 Ryan Cox, Director of Innovation & Instructional Technology
LEAF Lifetime Service Award
2009 Phil Welter
2012 Don Watkins
2013 George Torrey
2015 Barclay Carriar
2016 Don Farleo
2018 Joanne Dorsher
2019 Pat Welter
2020 Pat Krueger
2021 Elizabeth Reisinger
2022 Bob Feigh
2023 Peggy Carlson
Thanks to the St. Cloud Community, the many LEAF committee members, and our LEAF Board of Directors for their contributions to LEAF and Education in District 742 Public Schools!