Homeless Students Need Help
April 17, 2020
---
LEAF SUPPORTS HOMELESS STUDENTS AND THEIR FAMILIES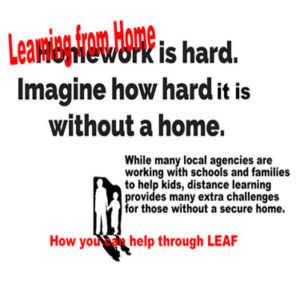 Every day, homeless students face the daunting task of trying to focus on a quality education while worrying about the basic needs like reliable source of food, clothing and shelter.
Since 2014, LEAF has been supporting District 742 students facing homelessness through our Homeless Student Services Fund.  The need is even greater during the COVID-19 pandemic.  Can you help us help students in need?
Donors who wish to contribute to the fund, which will provide needed school supplies, clothing, food and crisis housing assistance for District 742 homeless students, can make their tax-deductible contribution by clicking here.
You can also donate by texting 52014 and including "@LEAF #helphomelesskids" in the message body or by sending a check, made out to "LEAF" to the LEAF address of PO Box 1132, St. Cloud, MN 56302.
---