ROTARY/LEAF-FUNDED ROLL & READ BUS
September 25, 2015
---
ROLL & READ BUS DRIVES UP SUMMER READERSHIP
When the colorful Roll & Read Project bus pulled up to elementary schools, Boys and Girls Clubs and neighborhoods this summer, children eager to access the mobile library's generous array of books came running and climbed aboard.
While many District 742 students enjoy the benefits of reading at home, a growing segment of learners does not have the same opportunities. Time and financial constraints and other barriers make it difficult for many parents to read with their children at home, and the effects on children are more acute during summer months. Research has shown that as much as an 85 percent achievement gap can be attributed to "summer slide" caused by lack of quality educational materials available to them.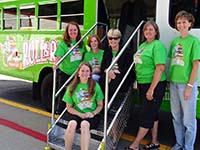 "St. Cloud has taken an amazing pathway to make this access to books available to learners in every single school," said Mary Dank, who brought the idea for the highly successful PAKRAT (People And Kids Reading A Lot Together) to St. Cloud when she began as an instructional coach in 2008,
The program grew quickly thanks to LEAF, broad community support and the work of PAKRAT coordinators Melanie Jiskra and Sara Martini and instructional coach Beth Lovdahl. The PAKRAT child literacy/parent involvement community-wide reading competency program has worked well at nine elementary and preschool locations.
Expansion to a summertime program has helped elementary students living in poverty to improve their reading skills and expand their educational potential – good for everyone in the community,
A Rotary Club gift of $15,000, along with LEAF Foundation funds and a portion of an Otto Bremer Foundation grant of $29,414, helped to purchase the bus and expand the summer program to all elementary school attendance areas in the district.
Summer 2015: 2,318 children checked out 4,475 books!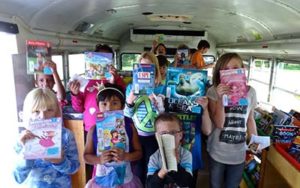 80% of students surveyed say PAKRAT makes them better readers
66% of students say they spend more time at home reading because of PAKRAT
91% of parents said PAKRAT made their children stronger readers
62% of teachers said PAKRAT has made great impact in building literacy connections between school and home
94% of parents and 95% of teachers say they want to see the PAKRAT program continue
---