Community Report and Awards Reception
March 3, 2015
---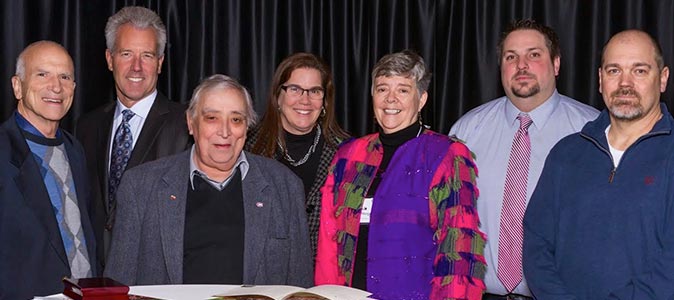 On February 17, 2015, LEAF recognized and thanked community supporters at the annual Community Report and Awards Reception at the St. Cloud Country Club. In a warm, celebratory and forward-looking atmosphere, awards were presented for lifetime service, volunteerism, charitable donations, coaching/directing excellence, and instructional excellence.
The following individuals were recognized:
Barclay Carriar received the LEAF Lifetime Service Award for his many years of service as the LEAF Board President and other contribution to the growth of the Foundation.
Jim Pehler received the LEAF Volunteer Service Award for his years of service on various LEAF committees and his leadership with the LEAF Learning Renaissance and Night of the Stars fundraisers.
The LEAF Charitable Giving Award was presented to Vicki & Lee Morgan and Wayne & Juli Schulchter.  Vicki and Lee have made significant contributions to LEAF and education in District 742 through personal gifts and grants through their Foundation; the Morgan Family Foundation.  Vicki has also been a volunteer auctioneer at the LEAF Learning Renaissance.   Wayne and Juli Schluchter have been long-time donors to LEAF and Schluchter Investment Advisors, Inc has been the marquee sponsor of the annual Tech High School Golf Tournament, which raises funds for the Tech Athletics Legacy Fund with LEAF.
Steve Taylor (Tech Coach) and Justin Skaalerud (Apollo Coach) were co-winners of the LEAF Coaching/Advising Excellence Award.  The award is given to coaches/advisors or directors whose demonstrated leadership has been a model for others and a benefit to those student who are fortunate enough to work with them. 
Finally, LEAF recognized the District 742 Early Childhood Education program and Staff with its Instructional Excellence Award.  Alicia Jepsen, Director of the Early Childhood Education Program received the award on behalf of the Early Childhood Education staff.  
Thanks to our committee volunteers, and sponsors for making this wonderful event possible. Sponsors for the event were:
Proviant Group
Quinlivan & Hughes, P.A.
MinnWest Bank
Falcon Bank
---