Rotary Club/LEAF Help PAKRAT Expand!
April 15, 2015
---
Since 2011, LEAF has been supporting the Partners And Kids Reading A-lot Together (PAKRAT) program in our District 742 elementary schools.  The program has been a great success, with 87% of the students reporting that PAKRAT has made them a better reader and 98% of the parents indicating they wanted the program to continue.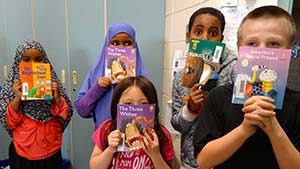 In 2013, under the leadership of Sara Martini and Beth Lovdahl and with grants from LEAF, the PAKRAT program was expanded to a summer Roll and Read program for the Talahi Elementary attendance area.  Each week, the Roll & Read school bus made stops throughout the Talahi attendance area, drawing students from virtually every elementary school in District 742!
Based on Richard Allington's research which indicates that up to 85% of the achievement gap can be attributed to the "summer slide" when many students have little access to quality reading materials, the Roll and Read program provides all students access to these quality reading materials on a weekly basis throughout the summer.  The pilot program in the Talahi attendance areas was a great success and now, with the help of a $15,000 gift from the St. Cloud Rotary Club, an additional $10,000 grant from LEAF and support from District 742, the Summer PAKRAT Read and Roll Program will be expanded into all District 742 Elementary School attendance areas and will run 3 days per week!  
The plan is to make weekly stops at 6 locations within "school clusters" so that all students will have access to the bus and to quality reading materials.  The school clusters will be:
Tuesday Afternoons:   Lincoln/Talahi/Clearview
Wednesday Afternoons: Oak Hill/Discovery/Kennedy
Thursday Afternoons:  Madison/Westwood
The bus will make stops at the three Boys & Girls Club locations and the schools which house summer Kidstop programs.  Students from any school in District 742 can visit any of these days and students of any age are invited!
The Summer Rotary Club/LEAF/District 742 PAKRAT Roll & Read Program provides a "library on wheels" during the summer months and serves as an extension of the school year PAKRAT program.  We are in need of additional quality books of all genres to keep students reading so as not to lose the gains made during the school year.
If you can help by donating quality books, please contact Sara Martini at sara.martini@isd742.org.   If you would like to make a cash donation to this unique literacy program, you can send your check to:  LEAF, PO Box 1132, St. Cloud, MN 56302 or to make a donation by credit card click on the button below.  GET ON THE PAKRAT BUS!
---