742 Bus Driver Recognition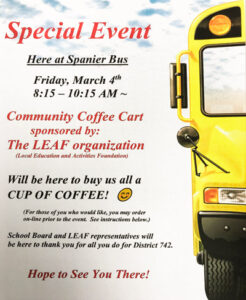 LEAF honored our District 742 bus drivers and transportation staff with an "Instructional Excellence Award" and a cup of coffee recently.  Pictured below is Anna-Maija Lee from "For the Love" project and Community Coffee Cart, who was hired by LEAF to deliver the coffee to each of the contract carriers and District 742 transportation staff.  Drivers for Palmer, Spanier, Trobec's and Voigt's bus service, in addition to the District bus drivers and staff all received their coffee on-location on different dates, spread over two weeks!  The pictures show the last event, which was held at Spanier Bus Service.  In addition to Anna-Maija and her helper, the last picture shows Tami Spanier, owner of Spanier Bus Service with Bruce Mohs, President of LEAF, enjoying a cup of coffee.
Our thanks to all bus drivers and transportation staff for their great work – and Anna-Maija for her efforts in serving the transportation staff with their well-earned cup of coffee!